We take an industry-leading approach to private jet charter safety. We are both ARGUS and Wyvern Certified – accreditations which indicate the highest levels of safety and best practice within the aviation industry.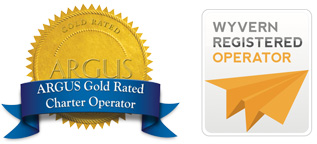 Your safety is our safety
Our seasoned team has decades of expertise in aviation safety which has produced a flawless safety record free of accidents, incidents, and violations.
Each of our pilots undergo comprehensive training, background checks, and every pilot meets and exceed training and flight-hour requirements with FAA-issued commercial pilots licenses.